Making sure our campus is running smoothly.
The Facilities Department oversees the day-to-day maintenance, contracts service management, security and safety of the campus buildings and community. We are also responsible for coordinating safe and hospitable accommodations leased by the University of Calgary in Qatar.
Activities in our department focus on day-to-day maintenance requests, preventive maintenance, renovations and capital projects, campus health, safety and security, emergency management, incident management, promoting health and safety awareness on campus, working closely with enforcements, local agencies and the main campus. Our department works closely with accommodation landlords to ensure smooth On and Off boarding of staff and any day to day accommodation. Typical activities of the department include:
Providing timely response to maintenance requests
Planning for future maintenance requirements
Promoting health and safety awareness through training, committee work and warden network
Managing contracted services
Support on and off -boarding of staff in accommodations.
Facilitating and co-ordinating staff accommodation requests and concerns
Supporting other UCQ departments to achieve their goals
Promoting student, staff and faculty success by providing a well maintained campus.
Provision and management of student lockers
Events coordination and support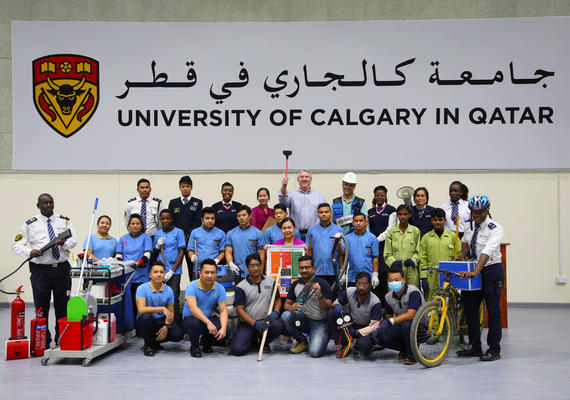 Meet the team!
Tahir Farooqui:  Team Lead - Occupational Health, Safety and Security, Facilities
Kathy Kang:  Facilities Administrator
Lanie Pana:  Administrative Assistant
CONTACT US AT: +974 4406 5200