Research at the University of Calgary in Qatar
With the vision to enrich health and wellness in Qatar and the Gulf region, the University of Calgary in Qatar (UCQ) is at the forefront of health promotion and disease prevention. While educating future nursing leaders of Qatar, we will engage individuals, families, communities, and key stake holders in education and research activities designed to enhance individuals, family, and community capacity to attain, maintain, and improve health.
With the aim of building Qatar's knowledge-based society, the Qatar National Research Strategy (QNRS) 2012's vision that "Qatar will be an international centre for research and development excellent and innovation." UCQ nursing students, graduates, and faculty have been actively engaged in research training and activities that contribute to not only QNRS's vision but also to the health and wellness of the people of Qatar.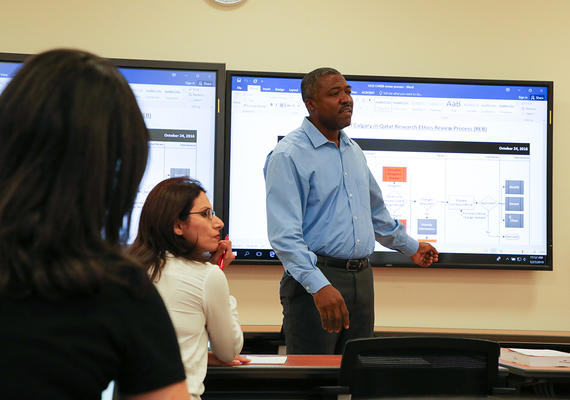 Research Office
The Research Office at UCQ supports and assists our research community in health and sciences. Our mission is to provide comprehensive support to Principle Investigators. We play a role in three phases:
Pre-Award Phase of Application
Post Award Phase of the Research
Procurement Phase of the Research